Sittingbourne FC Youth
Photographs from the Youth Presentation Awards 2019
Thanks to Chris Webber for Presenting the awards.
Pics by Ken Medwyn, Michael Sayce and Glen Parkes
Congratulation to Sittingbourne Youth Under 10's for winning the Dutch Easter Cup and also winning the fair play trophy. A tremendous achievement. (April 2019)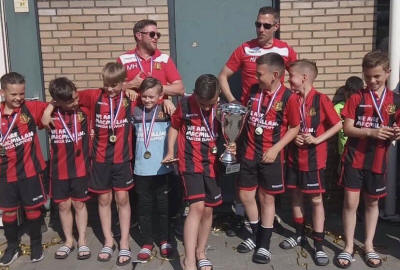 Congratulations to Sittingbourne FC Under 15's who won the the Sittingbourne East Kent U15 league and now get promoted top Division 1. (April 2019)

<!xml:namespace prefix = "o" /><!xml:namespace prefix = "o" /><!xml:namespace prefix = "o" /><!xml:namespace prefix = "o" /><!xml:namespace prefix = "o" /><!xml:namespace prefix = "o" /><!xml:namespace prefix = "o" /><!xml:namespace prefix = "o" /><!xml:namespace prefix = "o" />

Below

Our two 2018-19 Under 18's October 2018
Sittingbourne Colts U12's 3 West Kent U12's 0
On Sunday 22nd April, in the beautiful sunshine, these two teams met at the Castle Colts ground in Allington to contest the final.
Sittingbourne took the lead very early in the game and followed it up with a second shortly after. But West Kent showed why they had got this far with some attractive football and over the remainder of the first half created a number of chances that were either just over or cleared after more than a few frenetic goalmouth scrambles.
However, it wasn't all one way traffic by any means. At every opportunity Sittingbourne pushed forward and stretched the West Kent defence, but without any reward.
The second half began with West Kent coming out the stronger for the first ten minutes or so, creating a number of chances that were fortunately for Sittingbourne, only close shaves. After one such attack, the ball was cleared and Sittingbourne took advantage of the high line of West Kent, broke out of defence and after a long run downfield, scored their third goal.
Although to their credit West Kent never gave up, they could not deliver a killer ball, and the final score was 3-0 to Sittingbourne. This means that they are double champions, winning both this cup and also the league with a highly impressive record of fourteen wins out of fourteen and are currently eleven points clear of their nearest rival with only two games left to play
A very entertaining match was enjoyed by quite a crowd of supporters and friends from both sides.
Mick Sayce
Thanks to KFC Halle St Martinus Youth from Belgium for providing international opposition for our U18 side on

Sunday 8th April 2018. Sittingbourne were a goal down at half time, but came back to win 5-1 in front of 163.
Ramsgate U 18 1 Sittingbourne U18 1 video below:
Under 18's defeat Margate Under 18's 4-1, video below:
Photographs by Glen Parkes and Michael Sayce Sunday 18th February 2018
Pics and Video from the Youth game by Ken Medwyn